Our Travel Blog


Double up Sale
Before you know it, you'll be exploring the world's most unforgettable shores again. Plan your future dream vacation now during our Double Up Sale and enjoy twice the savings. Like up to $200 to spend at sea and up to $150 off 2021 sailings. You'll also score 30% off every guest, plus kids sail free. If you need to change your plans, that's okay — our Cruise with Confidence policy allows you to cancel your booking up to 48 hours before you sail, and our Best Price Guarantee ensures you'll always get the best deal. Come Seek the Royal Caribbean®.
For reservations and information,
contact us
today.
Hurry, offer valid July 24 — 27, 2020!
*See your travel professional for complete terms and conditions. Double Up Sale applies to new bookings made on 7/24 — 7/27/20. Double Up Sale offers up to $200 per stateroom to spend at sea ("Onboard credit" or "OBC") on select sailings departing on or after 9/16/20. OBC amount determined by category booked and sailing length: On sailings 5 nights or less, $25 OBC for Interior and Ocean View, $75 for Balconies and $75 for Suites; on sailings 6 nights or longer, $50 OBC for Interior and Ocean View, $100 for Balconies and $200 for Suites. Onboard Credit does not apply to China departures. OBC is in USD, has no cash value, is non-transferable, not redeemable for cash, and will expire if not used by 10:00 PM on the last evening of the cruise. The "Cruise with Confidence" program allows individual guests and guests in non-contracted groups who booked a cruise on or before August 1, 2020, for cruises sailing between June 12, 2020 and April 30, 2022, to opt-in for RCI's "best price guarantee" on their current sailing, or cancel their cruise up to 48 hours prior to the vacation start date and have the option to either (i) move their booking to an eligible alternate sailing and receive our "best price guarantee" for the re-booked sailing or (ii) receive a Future Cruise Credit equal to the full amount of the cruise fare the guest paid for their cruise. Visit www.royalcaribbean.com/cruisewithconfidence for complete details. All other NRDB cancelled prior to final payment due date will receive a future cruise credit in the amount of the deposit minus a 100USD/CAD per person service fee. FCC is non-transferable and expires after 12-months from issue date. 100USD/CAD per person service fee applies to changes to NRDB ship or sail date. Deposits made toward Guarantees and Grand Suites and higher categories are non-refundable and are subject to NRD Booking Terms. Offer applies to new, individual and named group bookings confirmed at prevailing rates. Offer open to residents of US, Canada, Puerto Rico and select countries in the Caribbean. Changes to the booking may result in removal of the offer. Prices and offers are subject to availability and change without notice, capacity controlled, and may be withdrawn at any time. Refer to www.RoyalCaribbean.com for complete terms and conditions. Royal Caribbean International reserves the right to correct any errors, inaccuracies or omissions and to change or update fares, fees and surcharges at any time without prior notice.

You received this message because you provided your e-mail address to Royal Caribbean. To ensure delivery to your inbox (not bulk or junk folders), please add royalcaribbeaninternationalsalespromotion@rccl.com to your address book. If you do not wish to receive any further communications from Royal Caribbean, please click here.

*Features vary by ship. ©2020 Royal Caribbean Cruises Ltd. Ships' registry: The Bahamas. All rights reserved. - 20074014
---
7 ways to enjoy a virtual Myrtle Beach vacation
(BPT) - While you may not be able to travel to your favorite beach destination this spring, you can experience Myrtle Beach, South Carolina, through virtual experiences that bring the area's popular beaches, attractions, activities and more to you. And those same features can help you plan for (and dream about) a Myrtle Beach vacation in the future.
This favorite spring destination is known for its 60 miles of sandy beaches, gorgeous resorts, exciting attractions and delicious seafood restaurants. But that's not all it has to offer, and this season families are invited to virtually experience the wide variety of attractions within the charming Atlantic seaboard town through specially created online opportunities.
"While a lot of us may be at home, that doesn't mean we can't still see the world," advises Emily Weaver on Popsugar.com. "Thanks to the internet, we're now able to virtually tour museums, landmarks, cities and more — no passport or packing required. Bon voyage!"
With the help of a little technology, your imagination can take you straight to South Carolina's top destination for fun, sun and surf. Thanks to the efforts of caring, creative people throughout the city, you can now virtually:
1. Imagine yourself taking a relaxing, balmy walk down a sugar-sand beach through the Ocean Drive live beach camera.
2. Immerse yourself in the sights (and often sounds) of 10 Myrtle Beach resorts through live webcams that show off some of their most appealing features and scenery.
3. Take a fascinating backstage tour of the Alabama Theatre, which regularly hosts live professional entertainers from across the nation. Then watch specially created video footage showcasing the cast of the critically acclaimed Carolina Opry Theater, now in its 35th season after successfully staging more than 9,000 performances.
4. Laugh at the antics of a group of African penguins through the live penguin cam at Ripley's Aquarium, and check out its other live footage starring aquatic animals such as sharks, stingrays, hermit crabs and jellies.
5. Enjoy Facebook Live-sponsored entertainment from popular area restaurant the Dead Dog Saloon (and even tip your favorite acts, if you choose).
6. Engage yourself in completing a Myrtle Beach crossword puzzle, coloring pages and specially designed virtual jigsaw puzzles.
7. Add fun and excitement to your home schooling through educational opportunities offered by a number of fascinating local attractions. For example, the Myrtle Beach Art Museum posts compelling (and free) art classes and tutorials for kids as young as age 2. Myrtle Beach State Park and Huntington Beach State Park are hosting Facebook Live events to share wildlife and nature information.
Ready to get started with your virtual trip to Myrtle Beach, one of the nation's most popular vacation destinations? Find a complete list of virtual experiences at VisitMyrtleBeach.com/blog and get an overview of the entire area at VisitMyrtleBeach.com.
---
We're Here to Help
To our valued clients and friends. We wish you good health.
Travel by Ginny agency help clients build complex itineraries using various online hotel providers, local handpicked hotels and airlines, cuise lines, ferry boat lines and train providers. Unlike other travel companies that own, manage and operate services, we are held to our suppliers' cancellations and postponement terms and conditions.
In these difficult times, we are working very hard to protect you our clients, negotiating with our suppliers to ensure the most fair and reasonable terms.
Customers may change or postpone any trip, regardless of whether there is a current coronavirus threat in that destination.
Customers do not need to know their alternate dates when postponing their trip; however, they must book at least 90 days in advance of their new dates. There will be some restrictions based on airlines.
Any cancellation and/or change fees charged by local suppliers, airlines, cruise lines, trains, etc. will apply, however, we will work to negotiate the most favorable terms possible.
Payments can be applied for the future dates of travel, and any price increase or decrease in services may be applied to the new itinerary.
Many suppliers are offering 2020 rates for 2021 bookings.
We are always here to help should you have any questions about a current or future booking and will post updates to this page as necessary if the situation changes. For immediate assistance, please call us at 321 632-5610.
We apologize for the limited access, please be patient and your calls will be returned.
We are in this together. Stay Well, Stay Healthy.
Daphne Lacy, CAS, Manager

417 Brevard Avenue
Cocoa, Florida 32922
Tel: 321.632.5610
Fax: 321.632.5878
www.travelbyginny.com
daphne@travelbyginny.com
---
STOP THE PRESS:
CUBA IS FREE OF CORONA VIRUS
CUBA - FROM $675
AMERICA TRAVEL TO CUBA IS STILL LEGAL UNTIL March. 2021
Pick a weekend to explore Havana or soak up the sun on the beach in Varadero. Want to see more? Tours range from quick 4-day getaways up to 12-day immersive journeys through Cuba .
DELUXE PACKAGE TO CUBA
7 days/6 nights - From $675 Per Person Based On DBL. $240 Extra Per Person Based On SGL.
Day 1: Fly to Cuba. Arrive in Havana where you will be met by an English speaking guide and transfer to the 5* TRYP HABANA LIBRE Hotel or similar with breakfast for 2 nights.
Day 2: After breakfast half day City Tour hotel pick-up. In the evening - Tropicana show optional $105,00 pp (see details below)
Day 3: After breakfast, you will be transfer to Varadero to the 4* BE LIVE EXPERIENCE VARADERO All-inclusive (or similar) for 4 nights.
Day 4: After breakfast, pickup from hotel for Seatour optional $100,89
Day 5: After breakfast pickup for special swimming with dolphins tour-optional $115,68
Day 6: Visit to Cuevas de Bellamar (optional). Hotel round trip transfers included. $56,54
Day 7: Transfer from Varadero to Havana for your return flight back home.
HAVANA & VARADERO DELUXE
8 days/7 nights (3 nt Havana/4 nt Varadero)
From $795 Per Person Based On DBL.
$240 Extra Per Person Based On SGL.
Day 1: Fly to Havana. Arrive in Cuba where you will be met by an English speaking guide and transfer to the 4* PLAZA Hotel in Havana with breakfast (or similar).
Day 2: Day at Leisure to explore the city on your own, or take an optional tours.
Day 3: Excursion Havana City Tour.
Day 4: After breakfast, you will be transfer to the 4* BE LIVE EXPERIENCE VARADERO All-inclusive in Varadero (or similar).
Day 5: Day at Leisure.
Day 6: Visit to Cuevas de Bellamar.
Day 7: Day at Leisure.
Day 8: Transfer from the hotel back to the Airport for your return flight home.
---
SRAEL TAKING STEPS TO MINIMIZE GLOBAL SPREAD OF CORONA VIRUS
A number of flight routes to Israel have been cancelled as foreigners from certain countries are banned from entering.
24 February 2020 13:44
With the outbreak and spread of the coronavirus over the last few weeks, Israel is taking no chances. Numerous flights have been cancelled and foreigners from certain designated countries are forbidden from entering Israel.
Cathay Pacific has suspended flights between Tel Aviv and Hong Kong between February 24 and March 31. The Hong Kong airline had already reduced the frequency of flights between Tel Aviv and Hong Kong after the outbreak of the virus.
The suspension of all flights was expected after Israel's Ministry of Health banned all Chinese, Hong Kong, Singapore and Thai nationals from entering the country. All Israelis returning home from those countries are required to quarantine themselves for two weeks.
El Al has already suspended its flights between Tel Aviv and Hong Kong until March 31. Having suspended flights to Beijing and Hong Kong, the Israeli carrier is also set to suspend flights to Bangkok.
A Korean Air plane that landed in Israel had 200 Korean citizens on board and twelve Israelis. The plane was parked at a distance from the terminal building, and the Israeli passengers were sent to home quarantine for fourteen days. The Korean passengers were denied entry into the country and after the plane was cleaned and resupplied, had to make the twelve hour journey back to Seoul with the designated replacement crew.
Korean Air operates four flights weekly between Seoul and Tel Aviv. These flights will now presumably be suspended, like all flights between Israel and China and Hong Kong.
At this stage, there is no general order concerning South Korea, but Korean tourists now in Israel will have to enter an immediate fourteen-day quarantine, as will Israelis returning from South Korea. The order has been expanded to cover Israeli tourists returning from Japan, Macau, Singapore, and Taiwan as well. Israel Incoming Tour Operators Association director Yossi Fattal has told members of the association that groups from South Korea, Japan and Taiwan planning tours in Israel should be immediately informed that the tours are cancelled.
Israel's Ministry of Health is attempting to determine whether COVID-19 has taken hold in Israel as a result of the visit by the Korean tourists who were diagnosed with it on their return to Korea. The ministry has published the Korean tourists' itinerary along with guidelines for those who may have come into contact with them.
Japan and Taiwan have been added to the list of countries from which the Ministry of Health is banning the entry of foreigners to Israel. Israeli residents who spent time in these countries will be required to enter isolation upon their return to Israel. The list currently includes China, Hong Kong, Singapore, and Thailand. The Ministry of Tourism has informed agents that they must cancel tours in Israel by residents of Japan and other countries.
More updates to follow.
It is good to know that Israel is doing everything in their power to keep their country and other citizens of the world safe.
Shalom
Travel by Ginny
---
Plan Ahead for Peak Travel Seasons
(Family Features) A family getaway is the perfect chance to unwind and reconnect with loved ones away from the distractions of daily life. However, peak travel times like Memorial Day and Fourth of July weekend are some of the busiest times of the year, which can mean limited options.
Booking travel early not only gives you more time to get excited leading up to your trip - it gives you more time to plan, helping take some of the stress out of family vacation.
"The key is to book vacation homes before traffic peaks, so you'll find the best selection for the amount you want to pay," said Melanie Fish, Vrbo family travel expert. "There are clear times when demand surges. Booking your stay before that surge ensures you'll get that house with a pool right on the beach or that mountain cabin with enough beds for all the cousins."
If you're considering one of these high travel periods for a family trip in 2020, get ahead of the curve with these tips for advance booking dates from the travel experts at Vrbo.
Memorial Day
Marking the beginning of summer, Memorial Day is an ideal time for a beach getaway. Two of the top destinations are on the shores of Alabama alongside Santa Rosa Beach in Florida's Emerald Coast. Make travel plans by mid-April so you can soak up the sunshine and get away from it all to celebrate the long weekend.
Summer
Summer is the ultimate time to take a family beach vacation, and for the best selection you'll want to make reservations before the end of April, especially if you're considering a vacation home. Staying in a vacation home can take the stress out of a family summer vacation, particularly as extra space means extra bedrooms for the adults to relax after the kids go to bed. Top destinations with many vacation homes to choose from include Panama City Beach, Florida; Gulf Shores, Alabama; and Myrtle Beach, South Carolina.
Fourth of July
Fourth of July falls on a Friday this year, which means families from coast to coast will be enjoying a long weekend together, whether it's the immediate clan or extended relatives, too. Be sure to make travel arrangements by late May for the best selection and rates. The Florida and Alabama coasts are popular choices for a mid-summer getaway.
Labor Day
Often considered the final hurrah of summer, Labor Day weekend is the perfect time to kick back and relax. A vacation home at the lake or beach can allow you to take advantage of amenities like outdoor grills so you can enjoy one last sun-kissed meal with the family. Make plans by the end of July, especially if you're considering a popular destination like Myrtle Beach.
Find more travel tips and start planning your family getaway at vrbo.com.
Photo courtesy of Getty Images
---
3 Ways to add Wellness to your Vacation
(BPT) - Why not focus on your health this year by planning a trip that will help you relax, recharge and refocus on your top wellness goals?
The following are a few ways to focus on your health while on vacation.
Here are just a few ways you can make the most of your vacation while getting your health goals off to a great start.
1. Stay active
What's better than a great workout in the great outdoors? In Myrtle Beach, South Carolina, you can stroll along the shoreline, bike the Waccamaw Neck Bikeway, hike a trail or take an outdoor yoga class. You can also enjoy golf courses, like the Dunes Golf and Beach Club.
Kayak tours at Black River Outdoors, fishing from the 2nd Avenue Pier and jet skiing with Action Water Sportz are other active outdoor options.
2. Relax and unwind
If your wellness resolution is to unwind more in 2020, consider a Himalayan Salt Stone massage at the Cinzia Spa in Myrtle Beach, where hand-carved warm salt stones gently soothe away the accumulation of stress and tension, while bringing the body and spirit into balance. Or you can plan an entire day of spa treatments at Awakening Spa, including facials, wraps and aromatherapy, on your own or with a partner or friend.
You can just relax and soak up the sun on one of many beautiful beaches, or while enjoying a sailboat charter or riverboat tour of the Intracoastal waterway.
Your idea of relaxation might include bathing in beauty. If so, spend a day at Brookgreen Gardens to enjoy both the natural outdoor beauty as well as the sculptures. The area is home to dozens of art galleries for your perusal, as well as The Burroughs and Chapin Art Museum, which features southern artists in a range of media. For those who find creative pursuits relaxing, the museum offers art classes.
3. Eat healthy
While eating healthy on vacation can be challenging at times, focusing on fresh, ocean-to-table seafood offerings can be easy. In Myrtle Beach, visit Hook & Barrel restaurant to enjoy a fresh take on dining with distinctive seafood dishes and local produce in its ethereal, eco-friendly environment. You can't get any fresher than the wide selection of seafood at Wicked Tuna in Murrells Inlet, or try the inventive take on elevated Southern fare at the Rivertown Bistro in Conway.
Destinations like Myrtle Beach, South Carolina, make it easy to stick to your wellness goals while on vacation, providing plenty of water sports activities along 60 miles of pristine coastline, with plenty of places to walk, bike and relax, plus endless, fresh seafood offerings available.
For more information, check out visitmyrtlebeach.com.
---
Let Trends Guide Your 2020 Travel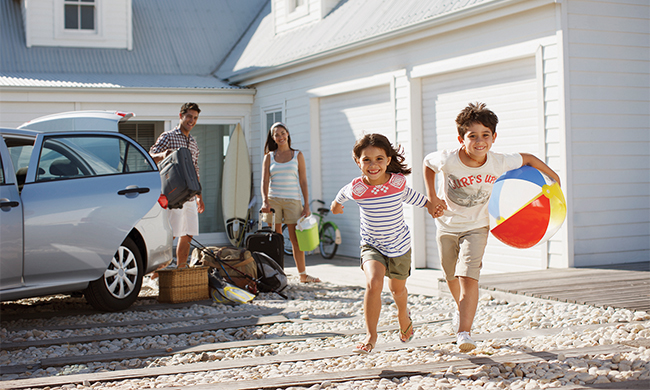 (Family Features) While there's plenty to be said for taking the proverbial road less traveled, fellow tourists can provide a wealth of knowledge to help shape a vacation filled with lifelong memories.
Whether you expect your travel plans for 2020 to take you near or far, having a pulse on how and where others enjoy spending their travel time may help narrow down your options. Start planning your next getaway armed with the findings of a trend report compiled by vacation rental app and website Vrbo, especially when it comes to selecting a destination and your accommodations.
Unique Accommodations
Traditional vacation home favorites like beach houses, cabins and condos still reign supreme, but adventurous American travelers are staying in some unusual options. In fact, 71% of millennial travelers said they would consider staying at a non-traditional vacation rental.
In addition to barns, castles and treehouses, properties on wheels and properties that float join the ranks of unusual accommodations travelers are booking. Travel demand for houseboats, yachts, RVs and travel trailers is up 30% year-over-year.
Surf's Up
Portugal's reputation for affordability, primo surfing and sunshine-filled climate make the country a desirable place to explore. That may explain why seaside locales in Portugal took three of the top five spots on the list of hottest international beach destinations for American travelers. Chania, Greece, took the top spot, followed by three Portuguese destinations: Vila Nova de Gaia, Porto and Lisbon. Catania, Italy, rounded out the top five.
For those seeking to stay stateside, four of Vrbo's top five United States destinations this year are beaches, including: Gulf Shores, Alabama; Miramar and Rosemary Beach, Florida; Panama City Beach, Florida; and Maui, Hawaii.
Same-City Stays
Rental demand data in Chicago, Philadelphia, Dallas, Atlanta and a number of other urban destinations showed the single largest traveler origin market for each city was that same city.
"'Cele-cations,' when people seek accommodations to host and spend time with groups of family and friends for milestone events like weddings, birthdays and anniversaries, may be fueling the trend of people booking vacation homes in the same cities where they live," said Melanie Fish, Vrbo travel expert.
Also high on the trend list: short-stay, drivable destinations located within 300 miles of home.
Up-and-Coming Destinations
Their names may not be familiar to the masses, but each of the top emerging domestic vacation destinations shares one thing in common: outdoor appeal. Places that appeal to families and other groups of travelers looking to explore the great outdoors are seeing a major surge over the past three years.
If an outdoor getaway is your ideal trip, consider destinations like Terlingua, Texas, located just a short distance from Big Bend National Park; Bella Vista, Arkansas, situated in the Ozarks near majestic lakes; Westport, Washington, surrounded by a bay to the east and the Pacific Ocean to the west; Cherry Log, Georgia, which sits in the heart of Chattahoochee National Forest; and Edisto Island, South Carolina, a charming beachside retreat 1 hour from Charleston.
"This is the third year in a row travelers' desire to be outdoors has filled the up-and-coming
destinations list," Fish said. "Clearly, people want the comforts of a home away from home while soaking in scenery."
Find the trends and accommodations that match your 2020 travel dreams at vrbo.com.
Photo courtesy of Getty Images.
SOURCE : Vrbo
---
Apps You'll App-reciate on Your Next Trip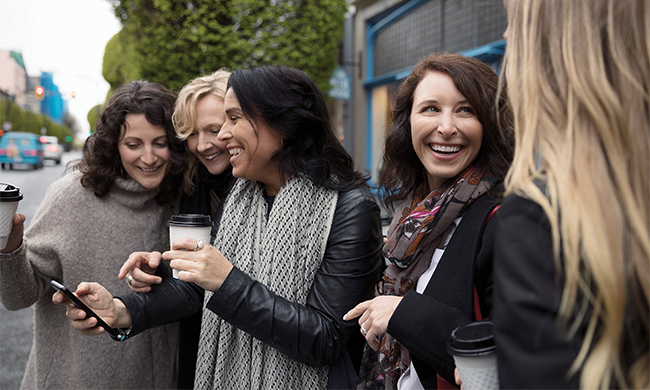 (Family Features) From planning your next getaway to managing your vacation budget, there are myriad apps you can use to make your trip a seamless, more enjoyable experience.
Before planning your next trip, make sure you visit your preferred app store to download tools like these that can help with everything from planning to staying on track during the trip to looking back on your experiences when you return home.
Map tools. While the most basic function of these apps is obvious, map apps are also useful tools to research the area you're visiting, plan your routes ahead of time and find nearby essentials like gas stations and restaurants during your trip. Some apps also allow you to download offline maps so you don't find yourself stranded if you're going someplace where you're likely to encounter poor signal strength.
Discount rate finders: These apps make it simple to research and compare the best rates and deals for multiple aspects of your trip, often packaged for maximum cost-savings. For example, the Expedia app can be used to research and book everything from airfare and hotels to car rentals and activities. Once you've booked, these app makes it easy to keep track of your reservations and itineraries.
Airline resources: Even if you book your ticket through a third party, you can benefit from downloading the app for the airline you'll be using. Nearly all airline apps include features that make it easier to make changes to your booking, check in, get a digital boarding pass, check your flight status and more. Additionally, most apps will alert you to any changes via push notifications.
Vacation rental bookings: Many travelers are opting for vacation rentals over traditional hotels, in part because of the convenience and personal experience you can create. For example, the Vrbo app provides everything you need to book a vacation rental. As an added bonus, Trip Boards allow you to save, organize and compare your favorite properties. You can invite friends and family who will be traveling with you to discuss the trip using the new group chat feature and add and vote on their favorite properties to help narrow down the choices.
Unit converters: Handy for international travel, these apps make it easy to compute and convert common units of measurement, such as currency and distance, and many even convert time zones for you. Having a unit converter app is especially important if you may not have reliable access to Wi-Fi or data during your trip.
Budget trackers: Travel expenses can pile up fast, but you can keep tabs on your expenses along the way with an app that tracks the details. Most options allow you to categorize expenses by type and date, and some offer additional features such as splitting balances between friends and families or allowing you to set warning thresholds so you know when you're getting close to exceeding your budget.
Payment solutions: Fees and structures may vary from one app to the next, but all are designed to make sending and receiving money more convenient. When it comes to travel, you can use an app like Venmo to easily split costs and share payments between family and friends during and after the trip.
Find more resources for your next getaway at Vrbo.com.
Photo courtesy of Getty Images.
SOURCE : Vrbo
---
Top 10 Travel Destinations to Start the New Decade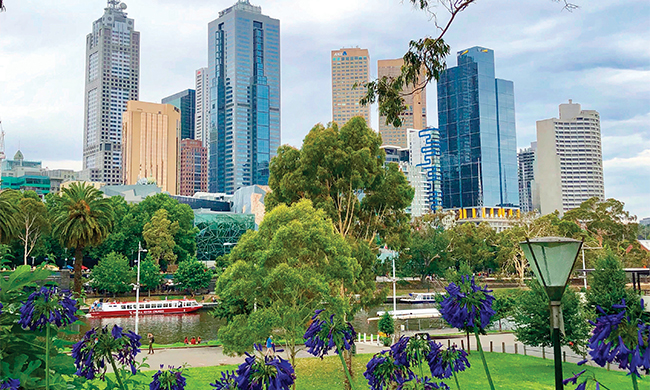 (Family Features) For many, traveling offers an opportunity to disconnect from the everyday and experience new places and cultures. With the beginning of a new decade, it is the perfect time to start deciding your next travel adventures.
When booking your future destinations, consider these spots and tips recommended by travel expert and Bank of America ambassador, Lee Abbamonte, the youngest American to visit every country plus the North and South Poles.
England, Germany, Scotland, Azerbaijan and more
While technically more than one place, these locations have one thing in common: Union of European Football Associations (UEFA) Euro 2020. The international soccer event marks the first time the games will be held across the continent in 12 host cities.
"The year is a big one for sports," Abbamonte said. "From sporting events in Europe to Japan, it is a fun year for travel and to enjoy once-in-a-lifetime experiences."
Australia
From its deserts to tropical beaches, Australia is a beautiful country to explore. While many people might be familiar with the Sydney Opera House and the unique wildlife, there are many hidden gems in Australia.
"I've been to Australia 10 times and I still can't get enough," Abbamonte said. "One of my favorite cities is Melbourne. While it's one of the largest cities in Australia, the heart of the city is hidden and secretive. It comes to life when you visit the alleys, laneways and arcades. The vibrant city has so much to offer: cafes, a unique street culture and street art."
New Zealand
If you are going to New Zealand for the first time, Abbamonte recommends boogie boarding down the sand dunes, hiking up a volcano and visiting the Moeraki Boulders. However, if you are really interested in getting the blood pumping, take a leap from Nevis Bungy near Queenstown. It is among the highest bungy jumping experiences in the world, measuring 440 feet.
Mexico
"Mexico City has two of my favorite things – great food and sports," Abbamonte said. "The street tacos are to die for, and I love going to soccer games at Estadio Azteca."
In 2020, there will be many festivals to explore. The city is a cultural hub with music, theater, dance and food events throughout the year. While experiencing the festivities, it is also an opportune time to take a step back and enjoy Chapultepec Park.
Brazil
One of Abbamonte's favorite waterfalls is Iguazu Falls located on the border of Brazil and Argentina. While Iguazu Falls might be well known, the falls themselves are truly unique. The waterfall system consists of 275 falls that stretch over approximately 1.68 miles. The Devil's Throat is the tallest fall with a drop of more than 262 feet.
While traveling internationally can be fun and exhilarating, there are also places throughout the United States that offer memorable activities: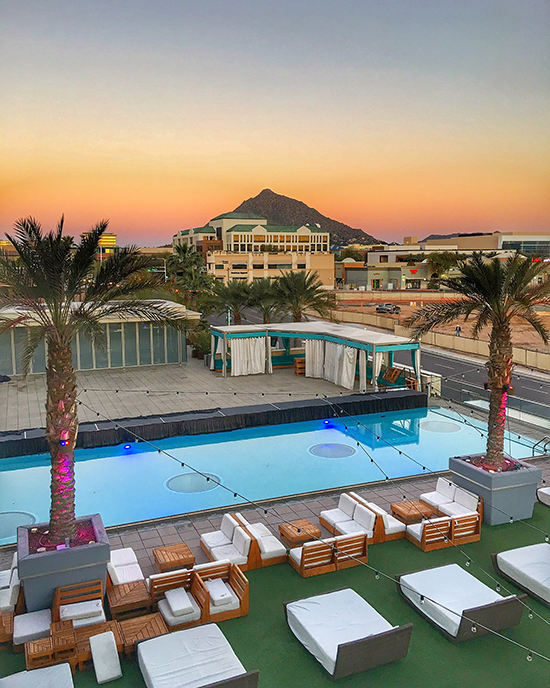 Scottsdale, Arizona
If you enjoy being outdoors, Scottsdale is an ideal place to visit. There are many trails to explore in Camelback Mountain, Papago Park and Hole in the Rock. After hiking, follow Abbamonte's example and golf at The Short Course at Mountain Shadows.
"Scottsdale has some of the most beautiful sunsets in the States, and from The Short Course at Mountain Shadows, I get to enjoy the view while practicing my swing," he said.
Boston, Massachusetts
"I love sports, so I visit Boston regularly for the professional games," Abbamonte said. "I'm also fortunate that Boston is a beautiful city I can enjoy along the way."
Boston is one of the oldest cities in the country. Founded in 1630, Boston is filled with history, museums and universities. If you are interested in a more unique attraction, check out the Warren Anatomical Museum, which is one of the last of its kind in the United States.
Portland, Oregon
What makes Portland unique are the bizarre and wonderful things you can do when you visit. For example, you can try bone marrow ice cream, stop by Mill Ends Park (the world's smallest park) or attach your wish to The Wishing Tree.
"Portland is absolutely beautiful," Abbamonte said. "It has a bit of everything – restaurants, bars, parks – and I enjoy the people watching. Portland has some of the nicest people while maintaining an edgy vibe."
Tampa, Florida
Tampa might be known for its spring break party scene, but it has so much more to offer. For example, the city's zoos and aquariums provide opportunities to interact directly with animals. Then you can take a break at Clearwater Beach, which is known for its soft, white sand and calm waters.
Santa Barbara, California
"I go to Santa Barbara when I want to recharge," Abbamonte said. "I enjoy the food, walking around, talking to the locals and even watching a football game or two."
There are wine tours, zoos, beaches, museums and restaurants. While taking in the city, also make time to visit the hidden gems such as Knapp's Castle ruins.
Financial Tips to Help Boost Your 2020 Travel
When booking a trip, almost half (44%) of Americans don't use a rewards credit card that earns points or cash back, according to a Bank of America survey. No matter where you plan to travel, it is helpful to have a financial strategy in place to maximize rewards and help offset future travel costs.
Use a credit card that allows you to earn and redeem points for travel such as the Bank of America® Premium Rewards Visa® credit card, which earns 2 points for every dollar spent on travel and dining purchases and 1.5 points for every dollar spent on all other purchases.
Layer your rewards programs together to maximize points with each purchase. For example, when booking a flight and hotel package, include your frequent flier number (layer No. 1) and hotel loyalty program details (layer No. 2). Pay with a rewards credit card (layer No. 3) that's eligible for bonus points with a banking rewards program (layer No. 4).
A banking rewards program like Bank of America® Preferred Rewards lets you earn even more. Members receive a credit card rewards bonus of 25-75% on every purchase. For example, members in the Platinum Honors tier, the highest tier of the program, earn unlimited 3.5 points per dollar on travel and dining purchases with the Premium Rewards Visa® card and unlimited 2.62 points on all other purchases.
Find more solutions to make your travel goals attainable at bankofamerica.com/Premium.
SOURCE:
Bank of America
---
Jump start your wellness resolutions in Myrtle Beach
Beach, Myrtle Beach, Resort, South Carolina

Myrtle Beach, South Carolina
(BPT) - If your thoughts are turning to healthy resolutions for the New Year, why not give yourself a head start by planning a trip that will help you relax, recharge and refocus on your top wellness goals?
Fortunately, there's a location that can provide everything you need for focusing on your health — from opportunities to be more fit and active to places to relax and unwind: Myrtle Beach, South Carolina. Great deals on lodging and activities throughout the Myrtle Beach area will inspire you to kick-off your wellness program right away.
Here are just a few ways you can make the most of Myrtle Beach while getting your resolutions off to a great start.
Stay Active
What's better than a great workout in the great outdoors? You can stroll along the shoreline, bike the Waccamaw Neck Bikeway, hike a trail at Myrtle Beach State Park or take an outdoor yoga class. You can also enjoy some of the world's most challenging and beautiful golf courses, like the Dunes Golf and Beach Club.
Want to be on the water? Enjoy a two-hour kayak tour at Black River Outdoors throughout Myrtle Beach's waterways to feel close to nature while staying active. You could enjoy fishing off the 2nd Avenue Pier, or experience a thrill by renting a jet ski from Action Water Sportz.
Relax and unwind
One of the many reasons Myrtle Beach is ideal for a wellness retreat is that the destination offers a getaway that is tranquil, peaceful and serene.
If your wellness resolution is to unwind more in 2020, look no further than Myrtle Beach as your go-to destination for relaxation. Sink into a Himalayan Salt Stone massage at the Cinzia Spa, where hand-carved warm salt stones gently soothe away the accumulation of stress and tension, while bringing the body and spirit into balance. Or you can plan an entire day of spa treatments at Awakening Spa, including facials, wraps and aromatherapy, on your own or with a partner or friend.
You can just relax and soak up the sun on one of many beautiful beaches, or while enjoying a sailboat charter or riverboat tour of the Intracoastal waterway.
Your idea of relaxation might include bathing in beauty. If so, spend a day at Brookgreen Gardens to enjoy both the natural outdoor beauty as well as the world-class sculptures. The area is home to dozens of art galleries for your perusal, as well as The Burroughs and Chapin Art Museum, which features southern artists in a wide range of different media. For those who find creative pursuits relaxing, the museum offers art classes.
Eat healthy
While eating healthy on vacation can be challenging at times, the Myrtle Beach area of South Carolina makes it simple with an abundance of fresh, ocean-to-table seafood offerings. Head to Myrtle Beach's own Hook & Barrel restaurant to enjoy a fresh take on dining with distinctive seafood dishes and local produce in its ethereal, eco-friendly environment. You can't get any fresher than the wide selection of seafood at Wicked Tuna in Murrells Inlet, or try the inventive new take on elevated Southern fare at the Rivertown Bistro in Conway.
As you head into the New Year, commit to your resolutions to be a better and healthier you in 2020. Destinations like Myrtle Beach, South Carolina make it easy to stick to your wellness resolutions while on vacation, providing plenty of water sports activities along 60 miles of pristine coastline, with plenty of places to walk, bike and relax, plus endless, fresh seafood offerings available. There's no reason sticking to your resolutions can't be both fun and good for you!
For more information about all the ways you can enjoy your resolutions, call Travel by Ginny at 321-632-5610 or go to Travel by Ginny.
---
Christmas in Rome - Buon Natale!
Christmas, family, group, Holiday, Italy, Rome, shopping, tour, vacation
Have you had the wonderful experience of staying in an authentic monastery, convent & Diocesan accommodation? We can book your dream vacation to Italy, contact us today.
Experience the wonder of the Eternal City during the holiday period
Rome is famous for being one of the most lively and exciting in places in Europe, and Christmas time is no exception as the city celebrates the holidays in spectacular fashion.
Buildings, houses and attractions are all adorned with lovely Christmas decorations, street markets come alive by day and night and beautiful Christmas trees stand tall all over the city.
Christmas Markets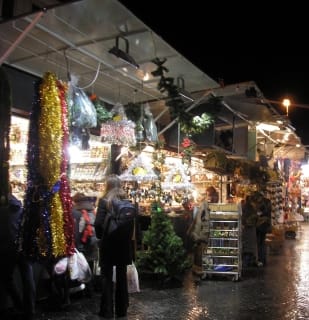 Christmas Markets in Piazza Navona, Rome [Credit]
The most famous Christmas market is set up in Piazza Navona from the 8th of December until the 6th of January. The Epiphany is celebrated throughout Italy and especially in Rome, where it has come to represent a day almost as important as Christmas Day itself.
This lovely Christmas market is a popular spot for locals and tourists alike in December, with a range of food stalls (selling such treats as doughnuts and peanut brittle), local handcrafts and toys for sale.
There is also a life-size presepe on display in the square, which is a beautifully presented, traditional Italian nativity scene. There are many presepi on display throughout Rome during Christmas.
To stay close to the fantastic atmosphere of these markets, we can book your accommodations around Piazza Navona.
A different experience, but equally suggestive, is that of the Piazza Vittorio market, just beside Termini railway station. This area is the multiethnic hub of the city, and it hosts all year long a bustling and vibrant street market for ethnic food, crafts and fair trade products. Christmas time brings new elements to this well-known market, in which the local traditions merge with multicultural influences, contributing to the creation of a unique atmosphere.
Nativity Scene Exhibitions

Christmas Markets in Piazza Navona, Rome [Credit]
The Nativity scene exhibitions are amongst the most characteristic events of the Christmas season in Rome – they attract a large number of visitors, not only tourists but also the Romans themselves.
The most famous Nativity scenes can be found in all major churches such as Saint Peter 's and Santa Maria Maggiore. The Nativity scene set up in Santa Maria Maggiore is believed to be the oldest (XIII century).
Other cribs are set up in nearly every church and in many public places such as Piazza Navona, the Campidoglio City Hall and the Spanish Steps.
These works are handmade by famous artists from all over the country, including Naples, Sicily and the Trentino region in northern Italy, where this tradition is particularly strong.
Less famous but no less important are the nativity scenes set up at Christmas time (from the first week of December until the 6th of January) in Via Giulia. Via Giulia is a long street running parallel to the river Tiber in the historical centre of Rome, designed by Pope Julius II in the XVI century.
The right side of the street is characterised by a number of historical buildings and antique shops, which display a collection of nativity scenes in their windows.
Religious Events

The Nativity scene in St Peters Square, Rome [Credit]
The midnight Mass represents the essence of the religious celebrations of Christmas.
Contrary to what many people believe, the Midnight Mass at Saint Peter 's Basilica is not open to the public: in order to attend this celebration an invitation or a special ticket issued by a diocese is required.
An equally suggestive and unique atmosphere, however, can be experienced attending midnight Mass in other churches in the capital, not only in the big Basilicas, but also in local churches, open all night long and prepared to welcome visitors from all over the world. Another equally important event – free and open to the public – is the papal blessing that takes place at midday on Christmas Day in Saint Peter's Square.
Each year, thousands of tourists, locals and pilgrims gather in the Square from the early hours of the morning, waiting to attend the blessing and the seasonal greetings addressed to the City of Rome and to the entire world.
Rome Gospel Festival
Gospel music has not been mainstream in Italian culture until a few years ago, but things have changed significantly since the Rome Gospel Festival was introduced in 1995. The Festival is held at the Auditorium Parco della Musica – Rome 's biggest public music complex.
Every year it brings an international selection of well-known artists to Rome. This event includes a series of concerts that combine the experience of this fascinating musical genre with the unique context of Rome at Christmas time.
What to do on Christmas Day
As a tourist, Christmas Day in Rome can be very different to a normal day spent exploring the city. There are significantly fewer people on the street on Christmas Day in certain parts of the city.
You will find the biggest crowd on Christmas Day in St. Peter's Square, gathered to hear the Pope deliver his annual Christmas address from his balcony at midday.
A good place to catch a glimpse of some of the sights of Rome without the usual wave of tourists is around the Colosseum and the Roman Forum. While these attractions are not open on December 25th, you can stroll around the Colosseum, view the Arch of Constantine and walk along Via dei Fori Imperiali, which offers views over a large portion of the Roman Forum for free.
There are also a number of restaurants open in Rome on Christmas Day, so a traditional Italian Christmas meal will still be available. Traditional Italian fare on Christmas Day involves a lot of red meat, with fish being the main meal on Christmas Eve.
Contact one of our agents at Travel by Ginny to book your 2020 Italian Christmas Holiday!
Important Christmas Dates in Rome

The Colosseum on a December Night
December 8th – The Feast of the Immaculate Conception is a national holiday across Italy. Be sure to get to the Spanish Steps, where the Pope visits the statue of the Virgin Mary and lays down wreaths and flowers.
December 25th – Start off Christmas Day the night before by visiting a church in Rome for midnight mass. A truly unforgettable experience.
December 26th – Join the locals on St. Stephen's Day as they visit presepi, found in most churches throughout Rome.
December 31st – There is no better place to bring in the New Year in Rome than at Piazza del Popolo. Crowds of people flock to the square for celebrations and fireworks that light up the night sky.
January 6th – The Epiphany is the day which marks the end of the Christmas season and is another public holiday on the Italian calendar.
---
Sandals Weddings
ceremony, church, destination wedding, Sandals Resort, wedding
A Sandals®Resort is always looking to make things better for you. The Over-the-Water Serenity chapel at Sandals South Coast is now bigger and better. With new features such as a new bell tower, as well as now capable of hosting a capacity of up to 50 guests seated on the interior, you can now say "I Do" in this new and improved Over-the-Water Serenity Wedding Chapel. With stunning 360-degree, panoramic water views and a glass floor aisle, this will make your special day a dream come true.
Call us to book your destination wedding!
---
We Have The Perfect Gift For You...... A Sandals Resort!
Bahamian, Barbados, Grenada, Halcyon Beach, Negril, resort, Sandals
WORLD'S MOST INNOVATIVE ALL-INCLUSIVE RESORT
Sandals Grenada welcomes you to a new level of contemporary luxury never before seen at an all-inclusive resort. Think pools in the sky, a living room in a swimming pool, and decadently romantic suites that are unmistakably sublime and unforgettably seductive. Think pink, as in the exclusive Pink Gin Beach, Grenada's best. Sandals Grenada defies every convention of traditional design, taking innovation beyond the realm of imagination. Because here, within an exotic island paradise, we have taken the best of everything to create a whole new 5-Star Luxury Included®experience.
ALL-SUITE. ALL LUXURY.
ALL ON A JET-SETTER DESTINATION.
The royal treatment awaits at Sandals Royal Barbados, where you'll experience a number of Sandals firsts, including the first rooftop pool and bar, the first 4-lane bowling alley, and two new restaurant concepts − American Tavern and Chi Asian. Stunning ocean views, Butler Elite Service with complimentary private Rolls Royce airport transfers, and exclusive exchange privileges with adjacent Sandals Barbados define the new 5-Star Luxury Included®experience at Sandals Royal Barbados − the most exclusive all-inclusive. Ever.
SET ON THE LONGEST AND
BEST STRETCH OF NEGRIL'S 7-MILE BEACH
Sandals Negril is set on the longest and best stretch of Jamaica's famed Seven Mile Beach. It's a true beachfront 5-Star Luxury Included®resort − chic and playful with Caribbean architecture and buildings that are never taller than the highest palm. Fine specialty restaurants serve world-class cuisine and lively bars serve unlimited pours of premium liquor. Spend sun-kissed days playing on the beach and splashing in the water, and moonlit nights dancing barefoot in the sand. That's what life is like on one of the world's most celebrated beaches.
A ROMANTIC SLICE OF PARADISE
Set along an unspoiled stretch of perfect, white-sand beach.
Of all the Sandals Resorts, Sandals Halcyon Beach best defines the Caribbean's Caribbean − a peaceful, laid-back retreat tucked into gorgeous gardens along a tranquil turquoise sea. Take a lazy swim in one of our four pools − including the Caribbean's longest pool − and experience an unwavering sense of no worries and no hurries. Alternatively there are seven bars and six restaurants to choose from, including Saint Lucia's most legendary dining experience − Kelly's Dockside Over-the-Water Restaurant − dramatically extending 150 feet out over the water.
LUXURY AS DISTINCTIVE AS THE ARCHITECTURE
Sandals Royal Bahamian is the epitome of pure island elegance, the pinnacle of 5-star luxury in a destination known for its jet-set appeal. Timeless British traditions are set amidst Sandals signature innovations to take this resort beyond its heritage as the once private club for 1940's high society such as the Duke and the Duchess of Windsor. Today, the high life continues as guests in top-tier suites arrive at this glamorous resort in a Rolls-Royce. Enjoy our luxurious accommodations, 10 speciality restaurants, and then escape to an exotic offshore island that offers every amenity imaginable.
As part of the 5-Star Luxury Included®experience, Sandals only serves premium brand liquors—and they're always included and unlimited. Quality and excellence are the hallmarks of Sandals, making us one of the most trusted brands in the world. It's this proven track record and best-in-class approach that has our guests returning time and time again.
---
Pop Up Holiday Traditions New and Old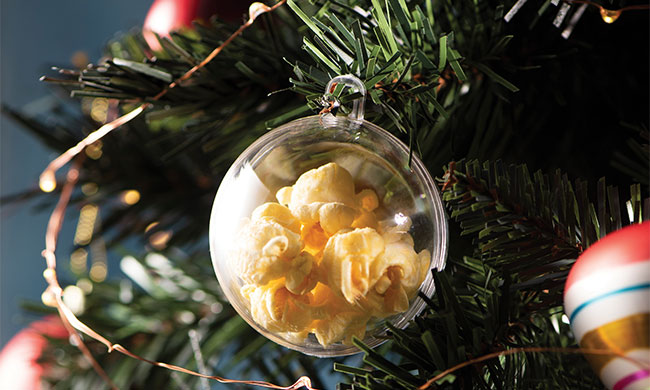 From decorating the tree to carving the turkey, there are many time-honored holiday traditions observed by families around the country. However, the holiday season is about more than just celebrating old traditions.
A perfect opportunity for creating new memories and, in turn, traditions, popcorn can serve as an ideal ingredient to bring family time to life. Whether wrapping the tree with garland made from the light and airy treat, filling clear ornaments with freshly popped kernels or simply popping up a bowl as a nutritious alternative to other holiday noshes, popcorn makes it easy to get hands-on while you deck the halls.
These seasonal recipes for traditional treats like peppermint bark and popcorn balls plus edible trees and a more elegant take on a simple snack highlight low-fat, non-GMO, gluten-free whole-grain popcorn as the main ingredient. Find more modern takes on traditional holiday recipes at popcorn.org.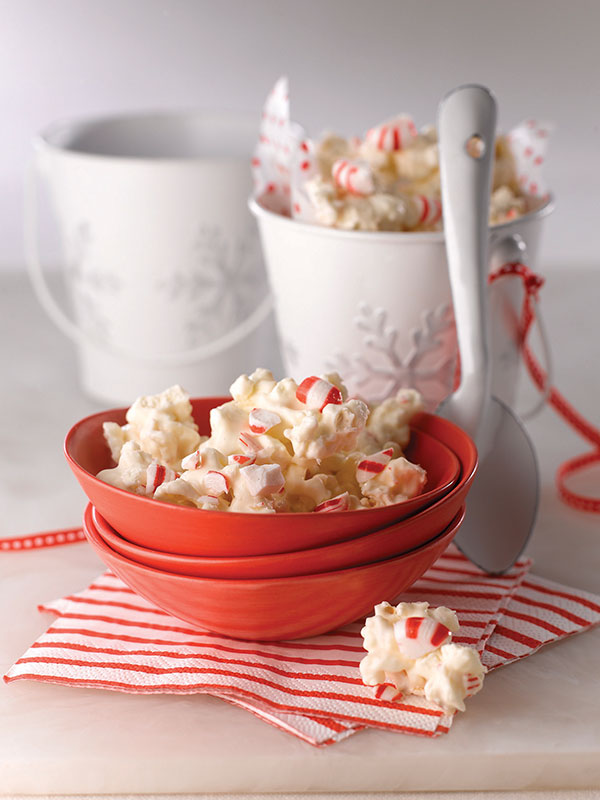 White Chocolate Peppermint Popcorn Bark
Yield: 1 pound
5 cups popped popcorn
12 ounces white chocolate baking chips
1 cup crushed hard candy peppermints Cover baking pan with foil or wax paper; set aside.
Place popcorn in large bowl; set aside.
In double boiler over barely simmering water, melt chocolate, stirring until smooth.
Stir in crushed peppermints.
Pour chocolate mixture over popcorn and stir to coat.
Spread onto prepared pan; cool completely. When chocolate is cooled and set, break into chunks.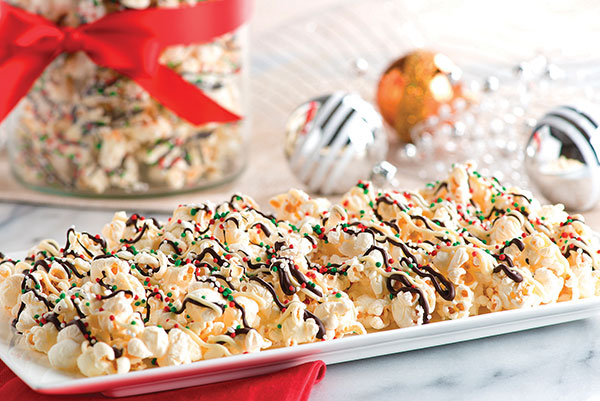 Easy, Elegant Holiday Popcorn
Yield: 8 cups
8 cups popped popcorn
1/2 cup milk chocolate chips
1/2 cup white chocolate chips
candy sprinkles
Line baking sheet with wax paper. Spread popcorn in thin layer on prepared pan.
Place chocolate chips in microwave-safe bowl. Microwave on medium 30 seconds; stir. If necessary, microwave in additional 10-second increments, stirring after each heating, until chips are melted and smooth. Drizzle over popcorn.
Place white chocolate chips in separate microwave-safe bowl. Microwave on medium 30 seconds; stir. If necessary, microwave in additional 10-second increments, stirring after each heating, until chips are melted and smooth. Drizzle over popcorn.
Sprinkle desired amount of candy sprinkles over warm chocolate-coated popcorn.
Allow chocolate drizzles to set until firm. Break popcorn into pieces.
Note: Chocolate chips can be replaced with cut up chocolate bars.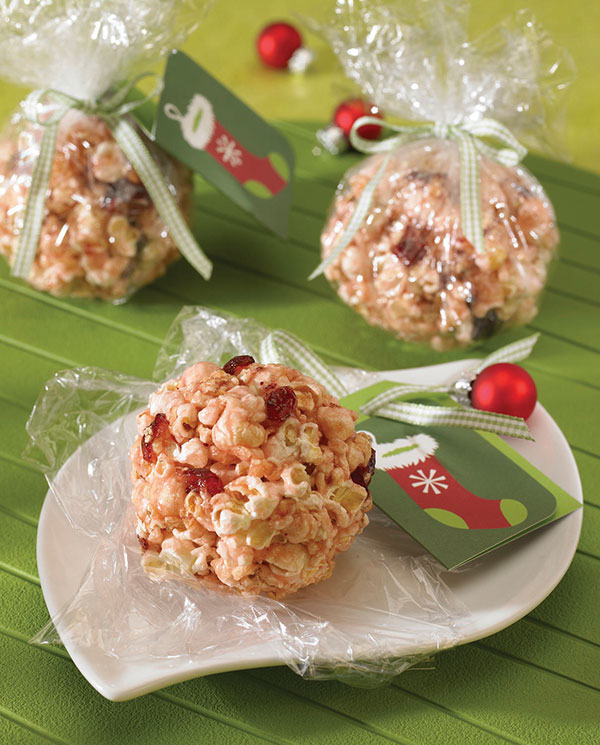 Cranberry Popcorn Balls
Yield: 18 balls
2 cups sugar
1 cup whole berry cranberry sauce, slightly mashed
1 tablespoon grated orange peel
1/2 cup cranberry juice
1/2 cup light corn syrup
1 teaspoon vinegar
1/2 teaspoon salt
5 quarts unsalted, popped popcorn
butter
In heavy saucepan, combine sugar, cranberry sauce, grated orange peel, cranberry juice, corn syrup, vinegar and salt.
Bring to boil; lower heat and cook until temperature reaches 250 F on candy thermometer.
Slowly pour cranberry mixture onto hot popcorn; mix until well-coated.
Let stand 5 minutes, or until mixture can easily be formed into balls.
Butter hands and form into 3-inch balls.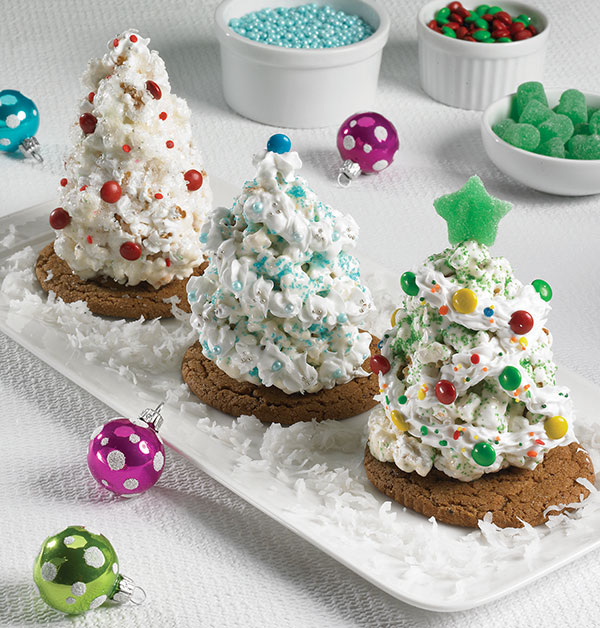 Festive Popcorn Trees
Yield: 10 trees
10 cups air-popped popcorn
1 bag (10 ounces) miniature marshmallows
2 tablespoons butter
1 teaspoon vanilla extract
nonstick cooking spray
green decorating sugar
blue decorating sugar
1 tube white frosting
small, colorful candies such as sprinkles and miniature silver dragees
Place popcorn in large bowl.
In medium saucepan over medium-low heat, stir marshmallows and butter until marshmallows are melted and mixture is smooth. Remove from heat.
Stir in vanilla extract.
Pour mixture over popcorn in bowl. Toss well to coat popcorn evenly.
Line baking sheet with foil.
Spray hands with nonstick cooking spray then scoop about 1 cup popcorn mixture.
Shape mixture into cone, keeping base flat to form tree.
Sprinkle tree with decorating sugars; place tree on baking sheet.
Make nine additional trees.
Using decorating tip, pipe frosting on trees to make garland then decorate with sprinkles and silver dragees, as desired.
Serving suggestion: Place each tree on sugar cookie and decorate serving tray with shredded coconut to resemble snow.
Notes: For best flavor and color, start recipe with unflavored white popcorn. You can make colored sugar by adding food coloring to sugar then stirring in bowl or shaking vigorously in sealed container. Add additional food coloring for more intense tones.
SOURCE:
Popcorn Board
---
Give the Gift of Travel
Gift of travel, JW Marriott Essex House New York, The Phoenician, The Ritz Carlton Key Biscayne, The St Regis Aspen Resport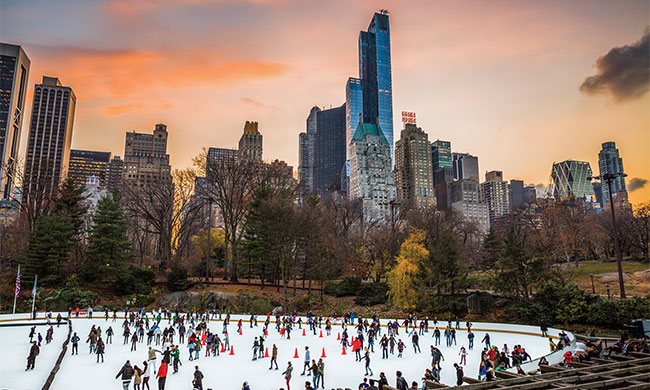 American Song The First of The New Modern Boats
Finding the perfect gift for someone who already has it all may be easier when you stop thinking in terms of "things." A gift that creates an unforgettable experience, like a trip to a special destination, may be more meaningful than a trinket under the tree.
Whether you give a travel gift for someone to enjoy on their own or as a present you share together, a gifted trip provides all sorts of advantages, like making lifelong memories, spending time with families and friends, and using your vacation days for pure enjoyment.
When planning a travel gift, consider popular destinations like these:
City Life in New York City
Discover the intersection of rich history and contemporary city living with a visit to the city of all cities. Must-see destinations include Central Park, Lincoln Center, Columbus Circle and Fifth Avenue, all of which can be found near the JW Marriott Essex House New York , a luxury hotel located at one of the world's most exclusive addresses on Central Park South since 1931.
Ski Slopes in Aspen, Colorado
From renowned skiing and snowboarding to picture-perfect dog sledding, a wealth of memorable winter experiences await in Aspen. Visitors can enjoy sporting outdoors or stroll over to historic Aspen where entertainment venues, luxury boutiques and charming restaurants beckon. From its prime location on the base of Aspen Mountain, The St. Regis Aspen Resort is uniquely situated to experience it all with luxury rooms with custom furnishings, a renowned spa and other special amenities, including 24-hour butler service.
Beautiful Beaches in Key Biscayne, Florida
The nation's southernmost barrier island, Key Biscayne offers beautiful beaches, wildlife and tranquil parks. Located close to Miami Beach and downtown, this is the location for those looking for a serene island escape. Families visiting the area can explore the Miami Seaquarium, which features exhibits, shows and a chance to swim with dolphins. Stretching along the beachfront, The Ritz-Carlton Key Biscayne, Miami , is the only luxury hotel on the bay.
Desert Exploration in Scottsdale, Arizona
In Scottsdale, the Sonoran Desert landscape is punctuated by mountain views, including famed Camelback Mountain. Visitors can enjoy an immersive experience with hiking, biking, horseback riding or taking in a special eco-tour. Others may delight in exploring the Scottsdale Arts District's galleries, museums and festivals, as well as the diverse, award-winning food scene. After a day of activities, The Phoenician, a Luxury Collection Resort, Scottsdale , allows guests to indulge in unparalleled resort amenities, from a three-level pool complex to an enriching spa, athletic club and golf course.
Arts and Culture in Austin, Texas
The "Live Music Capital of the World," Austin is home to more than 250 bars, restaurants, theaters and concert venues. At the epicenter of it all, near the Austin Convention Center, the University of Texas campus and the capitol building, you'll find W Austin , including its unique Living Room, which features four eclectic areas that provide special experiences.
Contact one of our Travel Representatives for more information about giving the gift of travel this season.
SOURCE:
Marriott
---
Why Solo Travelers Love American Cruise Line Riverboat Cruises

American Song The First of The New Modern Boats
Newest Travel Trend
A hot trend in the cruising industry has been the increasing number of solo travelers. Historically, solo travelers have had to pay more for a stateroom in the form of a single supplement.
To cater to this growing market, American Cruise Lines offers supplement-free, one-person staterooms with private balconies on all of their ships. The new line of modern riverboats, American Song, American Harmony, and American Jazz, features 250 square feet options for solo travelers.
In addition to spacious, well-equipped staterooms, solo travelers on American Cruise Lines never feel alone. Not only are they in the company of other solo travelers aboard each cruise, they also offer many wonderful opportunities for socializing. Small group size shore excursions, open seating dining at every meal, and nightly cocktail hour are perfect ways to meet fellow guests.
Award Winning Cruise Line
American Cruise Lines has been recognized by the industry two years in a row. They were honored for Best for Solo Travelers in the River Cruise category!
Book Your Cruise
To book your 2020 riverboat cruise aboard American Cruise Lines, call one of our Cruise Specialists at 1-321-632-5610.
---
Reasons to Visit Bermuda!
Plan a trip to Bermuda!
Picture this, you're walking hand in hand with your spouse along a shoreline of the beautiful blue ocean as the wet sand caresses each and every one of your toes like a blanket. You can feel the warm wind whip through your hair and the sound of happiness all around you. This moment takes your breath away, and all you want to do is stay in it forever. That is until you hear your boss nagging at you for falling asleep on the job and there is drool caked on the side of your face. Look, my friend, you need a vacation. And not just any vacation like taking the kids down to the theme parks, you need to chase your troubles away at the pink sandy beaches of Bermuda!

Beautiful Beaches
Now when you think of Bermuda, the first thing you can conjure up is the infamous "Bermuda Triangle" and shiver runs up your spine. But I am here to convince you that Bermuda is more than its own shipwreck cove but a diamond in the rough. Bermuda is a British island territory in the North Atlantic Ocean known for its pink-sand beaches such as Elbow Beach and Horseshoe Bay. With a population of only 60,000 people and on 20 square miles of rock, Bermuda offers a plethora of vacation activities such as water sports, horseback riding on the beach, golfing on multiple beautiful greenway golf courses, paddle boarding, sailing, sea glass scouting, whale watching, and fishing!
Fishing in Bermuda
In fact, Bermuda is known for its excellence in big game fishing! I mean the island is shaped like a hook for goodness sake! Rough it out on the rocky water with a few buddies, and with the strength of an ox, battle it out with the notorious big Blue Marlin as you try to reel that bad boy in! The waters of Bermuda are filled with other big game fish such as White Marlin, Elephant Tuna and Wahoo, and the world knows it because one of the biggest fishing championships are held here at Bermuda! But even if you aren't game to take on the big boys, you can always sail inland and enjoy bonefishing or fishing for hogfish.

Jet-skis and Boating
Another amazing experience you could be having in Bermuda is renting out a jetski! Talk about the wind whipping through your hair! With ocean mist in your face, you and a jetski guide can brave it out to the tip of the infamous Bermuda Triangle. The Bermuda Triangle starts from the most western point of the island of Bermuda, and goes to San Juan, Puerto Rico to Fort Lauderdale, Florida and back. Therefore, creating a triangle shape of 500,000 square miles of ocean. This area is measured by the amount of plane and shipwrecks in the last 300 years. A lot of people don't exactly know much about the Bermuda Triangle except for the mystery of it and the "paranormal activity" rumored to exist in the location. But that's not exactly why ships "go missing" or shipwrecked. Due to a lot of research over the last century, the rumors are proven to be false with realistic factors such as violent weather, compass variations, and simple human error. But the real culprit is the legendary and historic Gibbs Hill Lighthouse.

Sight-Seeing in Bermuda
Standing on Gibb's hill at 117 feet tall is the cast iron made lighthouse "Gibbs Hill Lighthouse". Built on May 1st, 1846, Gibbs Hill Lighthouse is responsible for about 100 shipwrecks on the coast of Bermuda. In the 18th century and during the long nights at sea, sailors would frantically see the lighthouse as it's light beam stretched about 20 miles offshore. Excited to finally find land, the sailors would speed up their boats toward the lighthouse only to be greeted by 16 miles of reef around the island. Some would not only say the reef is a curse, but also a blessing as it protects the island from big storms. But can you imagine visiting the tip of Bermuda Triangle and finding 200 sunken ships in the watery ship graveyard? With a guide, you can snorkel around some of the shipwreck to and see them for yourselves!

Historic Places
Take a drive through Bermuda as brightly painted buildings zoom past you. Roll down the windows and enjoy the warm summer breeze against your skin. While you're out on the road, you might as well stop by Bermuda's Royal Navy Dockyard! This historical site packs all of the history of Bermuda at the Commissioner's house. After the independence of English- American colonists in 1783, Bermuda was identified as a strategic location for a Naval base. Once home to the civilian commission of dockyard, Commissioner's house was built in the 1920's and is the world's first pre-fabricated cast iron residential building. Left to derelict in the 1950's, the house went through a 20-year award-winning restoration! If you love history and museums this is the perfect pitstop to make while you're in Bermuda!

Flavorful Cuisine
Another reason to travel to Bermuda is to taste their flavorful cuisine! Their most popular dish is Fish Chowder, but don't let the waiter serve you Fish Chowder without the condiments of Pepper Vinegar and Rum! Pour that into the Fish Chowder and experience the true Bermudian way of chow time. If you're looking for a fun way to spend your evening dinner, head over to Hog Penny in the city of Hamilton. Hog Penny is the original inspiration of the bar in sitcom Cheers. Here at Hog Penny they serve traditional british food and they are well known for their savory chicken pot pie! Wash all of this down with Bermuda's national drink Dark and Stormy. Watching a bartender crafting this drink is an art. With Dark Rum and Ginger beer poured strategically over ice, this drink is worth the distance to travel!

Now for the best part of Bermuda, the beaches! A lot of people wonder why are the beaches of Bermuda pink? Well its actually caused by tiny-shelled red organisms called "Red Foraminifera" that grow under the coral reefs around the south shore of Bermuda. When they die, their shells collapse into the continuous tide and are pounded by the waves into the very same grainy texture like sand. Bermuda's pink sandy beaches are definitely worth seeing! Head over to Horseshoe Bay for some pink sand fun, and bring a couple of kites to fly along the beach! So what are you waiting for? Book a cruise, or a flight and make your way to Bermuda for a vacation of a lifetime!
---
Five tips on what to bring to the beach!
Five tips on what to bring to the beach
Enjoying a Sunny day at the Beach!
Take a moment and close your eyes. Now with your eyes closed, I want you to imagine you're on a beach. The sun is out to play and you can feel its sunrays caress your skin. You can hear the waves of the ocean dance along the shore and the seagulls squawking just above you. The warm, and grainy sand massages the heels of your feet and seeps slowly in between your toes. You're in paradise, and nothing can ruin this feeling…until you hear the sound of a child wailing. You open your eyes and find yourself in the middle of the beach with a bored and sunburnt child kicking the sand with tears streaming down their cheeks. There's sand in the potato salad, no water, and your husband is googling on how to distill salt water with the last 5% of his cell phone's battery. What happened to that peaceful beach day you just imagined? Just like the tide, it was swept away! We have gathered 10 tips on preparing for the perfect beach day!
Tip 1: Check the weather before you go!
Nothing ruins a beach day more than rainy weather! On most days in the summer, it rains in the afternoon every day and at the same time of each day. If rain is predicted for the afternoon, try to plan a morning trip to the beach! Now if a storm does happen to make its arrival mid-beach day, seek shelter immediately. Do you know how glass is made? Its made when lightning strikes the sand and well know the beach is full of it! Water is also a big conductor for lightning, so please take your family back to the car or to a beach pavilion whenever you notice dark and scary clouds rolling in. Safety first, please!
Tip 2: Invest in sunscreen and beach umbrellas!
I cannot stress this enough from experience, wear sunscreen, please! Wear waterproof SPF 50 sunblock! Make sure all of your children are covered head to toe in sunblock. You couldn't even imagine how many weird places on the human body can be sunburned. The back of the knees is a great example! So, please make sure you slather sunscreen on the back of your neck, shoulders, chest, stomach, back, face, arms, and legs! Investing in a beach umbrella is a perfect way to protect yourself from the sun's harmful UV rays. You will not only feel a lot cooler but you will prevent you and your family from heat exhaustion!
Tip 3: Bring a cooler of water bottles and a trash bag to put them in!
The human body needs at least 6-8 glasses of water a day to survive the high temperatures. Bring you and your family an ice cooler full of water bottles. Keep your family hydrated, and safe. Also to prevent any litter on the beach, bring a trash bag to place empty water bottles in. Keeping the environment healthy and safe should be a priority as well! If you see trash on the beach, pick it up and throw it away! With everyone's help, we can keep the ocean clean!
Tip 4: Keep your kids entertained!
Keeping a watchful eye on your kids when they splash around in the ocean can be exhausting. So when its time to take a break from the water, entertain your kids with some fun sand toys such as buckets, and shovels. Building sandcastles and digging holes and moats can be so much fun for little ones. Encourage your kids to help you search for seashells, and bird feathers for their sandcastles. This gets them invested! You will have peace of mind while you relax in the beach chair as they dig away through the sand. A few more fun beach items I suggest to keep your kids entertained would be footballs, soccer balls, frisbees, and boogie boards!
Tip 5: Bring food and snacks!
Ever find yourself so hungry at the beach to the point where even seaweed looked appetizing? Well my friend, you probably should have packed some snacks for your beach day. I would suggest bringing bags of chips, sandwiches, and healthy fruit and veggies! Having food available throughout the day will keep everyone happy! Try to stay away from food items that need to be kept cool for long periods of time such as ice pops, pasta salad or potato salad! Your ice packs will melt over time, and potato salad isn't tasty when there's sand in every spoonful. Potato salad isn't supposed to be crunchy! Don't forget to bring paper towels, hand sanitizer and a trash bag for all of your trash!
Tip 6: Bring a portable phone charger
Hardly anyone brings a camera with them anymore, so we know you use your phone to take photos of your family enjoying the sun and sand. Your phone will experience a great loss of battery from all the photos and videos you take! Buy yourself a couple of portable phone charger packs to fuel those phones through social media cravings and most importantly for emergencies.
Tip 7: Bring a Bluetooth speaker!
I love the vibes I get at the beach when I bring a little Bob Marley into my day. Hook up your Bluetooth speaker up to your phone, and crank out the tunes! This will help you relax all of your troubles away!
Tip 8: Bring extra clothes and towels!
Cranky and soggy kids in the backseat after a long beach day isn't the best thing to drive with. Bring an extra pair of clothes your kids can change into after a good rinse. Also, Having extra towels come in handy in case your damp towels get too sandy between swims!
Tip 9: Wear sandals before you get to the beach
The sand is hot! Protect your feet while wearing sandals! It's helpful for when you arrive and leave as sneakers will only lock in sand and moisture. No one wants to pour a shoeful of sand all over the car!
Tip 10: Bring respect!
Respect fellow beach goers by keeping the beach clean, and by keeping the noise level down if other beach goers seem irritated. Also and most importantly, respect the wildlife! Please encourage your children to not pick up any wildlife or poke at any wildlife with sticks and such. The beach is their home, and we need to take care of marine life as we greet them. You can do that by simply leaving them alone. With a side note, watch out for jellyfish! They are often found washed up on the sand. Watch your step, and try to encourage your kids to do the same!
Now that you have all of these tips, I can guarantee you that you will find happiness out in the sun and sand. Just prepare yourself and most importantly, have fun!
Want to plan a trip to Sandals or Beaches?
Give us a call today: 321-632-5610
---
Planning the Perfect Disney Vacation!
Your Disney dream has finally come true!
You're finally ready to take the trip you dreamt of your entire life; you're about to see the Mouse himself! It's time to purchase those Mickey Mouse hats and Minnie Mouse ears, because you're going to Walt Disney World! Here are 5 tips to plan an efficient and amazing Walt Disney World vacation!
Tip 1: Pick a time in the off seasons
Walt Disney World is notoriously busy during the few peak seasons throughout the year. To avoid crowds, longer wait times, and traffic, its best to come during the slow times of the year. February through early March, May and September through November are the best times of the year to come the parks! Please try to avoid Spring break, the Summer season, and Christmas. Those times are the busiest times of the year and the most expensive!

Tip 2: Stay in an onsite Walt Disney World Resort or Hotel
Walt Disney World has many selections for onsite resorts and hotels from The Grand Floridian to Disney's Art of Animation. When you stay in a Walt Disney World resort or hotel you can reserve your fast passes up to 60 days! That gives you an extra 30 day head start compared to those who are not staying on property. For those of you out there who do not know what a "Fast Pass" is, it is actually 3 complimentary virtual tickets that cut your wait for 3 attractions of your choice. This gives you the opportunity to book Frozen Ever After, Avatar Flight of Passage, or even Slinky Dog Dash! In order to do this, you need to download the "My Disney Experience" app to make your fast pass reservations. The app is also good to check wait times, make dining reservations and mobile food ordering and to see showtimes!
Also if you stay onsite, there will be transportation; charge free to any of the parks, hotels, and even Disney Springs! You will save about 25$ PER DAY on parking!
Another good reason to stay in a Walt Disney World Resort or hotel simply comes down to the atmosphere and location. You will be close to all the action, you will not have to deal with horrendous Orlando traffic, and the kids will be fully submersed in Disney activities in your own hotel! The resorts and hotels offer so many family fun recreational activities for all ages! Its definitely worth it, and the water slides in pool areas are super fun!

Tip 3: Really invest into this trip
It is no surprise that Walt Disney World will be a drain on your funds. A bottle of water alone in any Walt Disney World theme park is 4$ To save money, bring filtered-refillable water bottles, and snacks. Also if there are souvenirs you are planning on purchasing, try to do some research online about their prices. And remember in any quick-queue restaurant in the theme parks, prepare to spend about 10-15$ on each meal and about 3$ per cup of soda. A tip to the parents, kids meals are also available to your little ones. Keep a budget!
Tip 4: Don't forget to pack the sunblock!
Orlando, Florida is literally hot and humid almost all year around. It can be 90 degrees on Christmas Day, I kid you not! You need to wear a very strong and waterproof sunblock, comfortable tennis shoes, shorts and tank tops! Remember to pack a lot of water bottles, and purchase you and your family their own individual mini portable fans! They will thank you in the end!
Tip 5: Be on the lookout for great vacation packages!
Walt Disney World offers a lot of great offers on plane tickets, hotels and theme park tickets in packages.
Visit our website today to learn more! We'd love to help you plan the perfect Disney Vacation!
There you have it, 5 tips on planning the perfect Walt Disney World vacation! If you follow these simple tips, you will be one step closer to reaching your perfect Disney World Vacation stress free! Oh and one last tip, have fun!
---
4 Underrated U.S. Cities You Should Visit
Plan a trip to these amazing U.S. Cities!
We're all familiar with must-see American cities like Los Angeles, New York, Seattle, Orlando, and many others. Thinking of taking a fun getaway, but don't want to visit another tourist destination? Consider these five incredibly underrated cities that just might become your new favorite vacation spot!
Burlington, Vermont
You'll find a lot more than you'd expect here. Home of Ben & Jerry's ice cream, Burlington is filled with incredible five-star foodie spots, sophisticated shopping districts, and some pretty awesome hiking trails, like the one full of quotes from the poetry of Robert Frost. Visiting in late September-early October gives you the added bonus of stunning fall foliage.
San Antonio, Texas
If you're a fan of Mexican food, you'll want to hit up San Antonio, Texas for some deliciously tasty grub. This locale is the seventh largest city in America, but it's surprisingly chill and not overly fast-paced. Mexican cuisine lovers can't miss Market Square, which is a huge outdoor fair with some must-try dishes you'll rave about for ages.
Asheville, North Carolina
Asheville is set among the stunning Blue Ridge Mountains, and is home to a lively craft-beer scene and vibrant food. Try visiting the beautiful North Carolina Arboretum, camping in the Pisgah National Forest, or hiking the scenic Pisgah mountain trails. After your adventures, delight in a five-star meal at any of the top-rated area restaurants, and end your day with a satisfying craft brew.
Knoxville, Tennessee
While Nashville or Gatlinburg are often the prized destinations of Tennessee-bound travelers, Knoxville is a hidden gem that can't be missed. With a thriving music scene, close proximity to the Smokies, and a robust selection of restaurants and bars in Old City and Market Square, what more could you ask for?
Contact Travel By Ginny Today!
Planning your next weekend getaway? Just want a break from the 9-5? Travel By Ginny can help you book an incredible trip to any of these amazing cities. Contact us today and get started booking a visit that will give you a lifetime of memories in places you'd least expect!
---
Traveling Makes You Happier!
4 Ways Traveling Makes You Happier
Today's culture is fast, busy, and stressful. The more we pack into our schedules, the more accomplished we seem—but it's at a cost. If your sanity is stretching too thin, and you could really use a break, stop hesitating and book that trip. Your ticket to a new city or country could be the ticket to increased happiness. Here are 4 ways traveling makes you happier.
Travel to Escape
Taking a trip or getaway, whether it's halfway around the world or just one state over, gives you a chance to escape from your daily life and responsibilities. You won't be checking your phone obsessively or thinking about that problem at work, because you'll be too busy catching rides, exploring parks, and eating great food. Traveling will force you to forget about what you know for a while and experience the sights, sounds and tastes of a new place.
Gain A New Perspective while Traveling
When you leave the familiarity of your town, state, or country, you experience how other people and other cultures live life. Traveling gets you right up close to a brand new culture, new lifestyles, and even new social standings that make you more open-minded and give you a brand new perspective on your own life.
Travel Makes Lasting Memories
Traveling is a guarantee that you'll leave with lasting memories and stories to tell. You'll go on adventures, try new experiences, and maybe even do a few things you're afraid to do. Whether it's snorkeling in the crystal clear waters of Belize, or climbing to the top of Mount Rainier in Washington, unexpected things will happen during your travels—and even the inconveniences like wrong turns and flight delays will make for a great story to tell your family and friends.
There's no place like home...
While traveling is an incredible experience, there is nothing like the feeling of coming home. Whether you've been gone for just a week, or traipsing around the world for six months—as you turn onto your familiar street and pull into your driveway, you'll appreciate home all the more.
Book Those Flights & Travel!
Need some happiness in your life? Don't wait—stop procrastinating and book those flights! For more travel inspiration, or if you need help planning the perfect getaway, contact Travel By Ginny today. We'd be thrilled to help you experience the world and build memories that will last a lifetime!
Travel By Ginny : 321-632-5610
---
What To Know About Travel Insurance
Planning a getaway to the Bahamas, a Caribbean cruise, or just a trip to visit family in Colorado? If so, you've likely thought about flights, rental cars, where you'll stay, restaurants at which you'd like to eat, and experiences you definitely don't want to miss during your visit. But have you thought about travel insurance? Many people never consider this insurance, and it's understandable – it can seem like just another thing you have to pay for. However, travel insurance might make or break a trip. Here are 5 things you should know.
What Is Travel Insurance?
Travel insurance is intended to cover the many different types of expenses you may incur, should your plans go awry. There are several types of travel insurance offered by most insurance companies, including:
* Medical & Evacuation Insurance
* Flight Insurance
* Vacation Insurance – Trip Cancellation & Interruption
If you are involved in a medical emergency during your travels, Medical & Evacuation insurance will cover most or all of the costs of your hospital stay and care, as well as any costs needed to evacuate you. It will ensure that you are able to access quality care while abroad, or able to be transported to a quality facility.
Trip Cancellation & Interruption policies will typically cover non-refundable trip costs if you are unable to travel due to situations such as illness or other unforeseen circumstances. It will also cover you if you must return home earlier than expected due to illness.
Flight insurance covers accidental death or dismemberment while on the aircraft, flight delays, and baggage reimbursement for lost or stolen luggage.
Want a free Travel Insurance Quote? Give Travel By Ginny a call: 321-632-5610
Who Should Get Travel Insurance?
If you want to protect your personal belongings while traveling, your health, your access to quality medical care, and the finances you invested to take your trip, travel insurance may be for you. If you frequently travel for work, you may also want a standard Trip Cancellation & Interruption policy for unforeseen circumstances.
What Does It Cost?
Typically, you can purchase the above plans as single trip plans, but the Vacation Insurance and the Medical & Evacuation plans are also sold as annual multi-trip insurance plans, which will cover you throughout the year and up to 1 month per trip.
Do you already have coverage?
It's important to know that your home or health insurance policy may not provide full coverage if you travel outside of a designated network area, or internationally. Speak with your insurance agent to review your policies and find out exactly what they cover. Then give Travel By Ginny a call to secure travel insurance if you find that they are not sufficient for your needs.
---